Packages
The Around the World Passport is your subscription to not miss a moment of the journey.
Enjoy easy, unlimited access to all eight audio dramas, issued weekly, as well as the CBC Ideas and Extend Your Stay programming.
Content will air on a weekly basis beginning April 21, and be accessed through your Soulpepper account portal for you to enjoy as often as you'd like through to June 30, 2021.
Please note that some patrons have recently experienced difficulties at checkout if using Firefox browser. We are currently looking into this challenge, but for now we recommend using Chrome, Safari or Edge to continue through the purchase path. 
Around the World in 80 Plays
Venue
Digital Event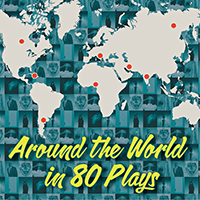 Events
Moonlodge - Canada (Premiere: April 21)

The Walls - Argentina (Premiere: April 28)

Six Characters in Search of an Author - Italy (Premiere: May 5)

The Seagull - Russia (Premiere: May 12)

Hayavadana - India (Premiere: May 19)

The Parliament of The Birds - Iran (Premiere: May 26)

She Mami Wata & the PxssyWitch Hunt - Jamaica (Premiere: June 2)

Death and the King's Horseman - Nigeria (Premiere: June 9)
This package is presently not on sale.